5 Reasons Why You Will Love Townhome Living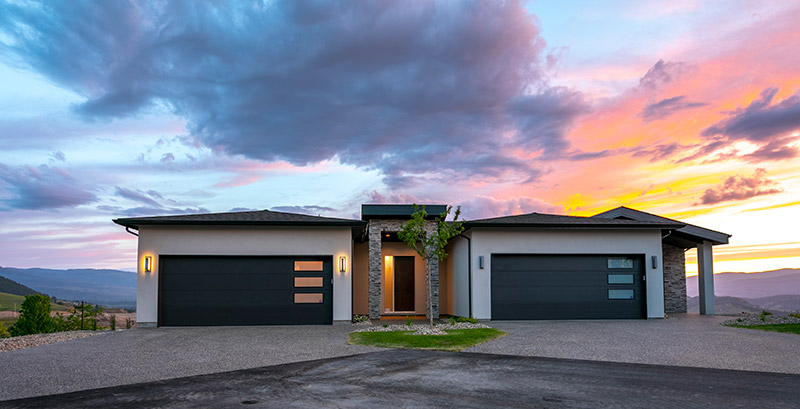 Working for over 30 years as custom home builders in the Okanagan Valley, we've built almost every type and style of home you can imagine. But we've always had a soft spot for townhomes and it's easy to see why. A perfect combination of urban condominium and sleek single-family home, here are 5 reasons why you will love townhome living as much as we do.
LOVE IT, LOCK IT, LEAVE IT
If a lock and leave lifestyle sounds tempting, look no further than a townhome.
While a single-family home means regular maintenance and a big responsibility, most townhome owners will never even mow their own lawn. In many cases the strata fees you pay will cover exterior maintenance, yard work and garbage and recycling removal. This is an attractive feature for those who travel for work, enjoy a snowbird lifestyle or simply want to spend their spare time doing something other than chores around the house. Or maybe you simply want the luxury of being able to take off at a moment's notice without worrying about returning home to an over grown lawn that requires mowing?
Love it while you're home; lock and leave it when you're not. Owning a townhome is a ticket to freedom.
SEEING GREEN
If you're moving to the Okanagan from the city and it's time to trade in your 40th floor view to grow some roots, but don't want the responsibility of a large property, a townhome may be the solution. Or perhaps you simply want to "right-size" your life and home.
An ideal space for those with pets, children, or a green thumb, a townhome offers an easily manageable space without the headaches that can accompany a single-family home or acreage. Tallgrass Ridge, our Signature semi-detached 3-bedroom townhomes are a perfect example of this.
Offering unobstructed lake and mountain views, these gorgeous townhomes boast a small front lawn and backyard; the perfect place to host a weekend barbecue or relax with the family. Together with expansive rear decks, you will gain lush green surroundings and outdoor space to call your own.
MULTI-LEVEL LIVING
If you don't want to give up on multi-level living, a townhouse is a wonderful alternative to a single-family home.
Townhome living does not require you to sacrifice what you want in a home. On the contrary, a townhouse is the best of both worlds. Should you doubt this, look no further than our new collection of 6 boutique semi-detached townhomes, Cantina at South Ridge. Offering 2 levels of generous living space between 2300 and 2560 square feet, these modern spaces will leave you wanting for nothing. A lavish master on the main floor, 2 additional bedrooms, a spacious living room and covered deck facing the view ensure you'll enjoy every season.
PRIVACY PLEASE!
If you enjoy your privacy, but also love living in a close community, townhome living strikes a perfect balance between the two.
A townhome allows you to enjoy having neighbours without someone living on top of, or below you. This added privacy is perfect for those who want to be a part of their community but feel cramped by a condominium. Sunrise Pointe, our new collection of 18 townhomes, illustrate the variety of privacy options townhome living can offer. These 12 semi-detacheds and 6 detached homes offer pristine views of Okanagan Lake and the surrounding countryside together with all the key ingredients for main level living.
BUDGET
If you're looking to enter the real estate market at the mid-level, a townhome can be an affordable option and when you choose to customize the Dilworth townhome you are buying you get to decide on the interior finishing levels and bells and whistles that best suit your needs and budget.
The beautiful thing about buying a Dilworth townhome that is still under construction is the window of opportunity for you to choose the level of finishings to meet your taste and budget. Another enticing factor to owning a townhome is that the financial responsibility for repairs and maintenance to common areas is shared by everyone. Along with being easier on the pocketbook, this form of exterior maintenance free living gives you more time to play.
THAT'S ALL, FOLKS!
Lifestyle, convenience, budget, and design. We can think of as many reasons to love townhome living as we have years of experience building them. Should you have any questions about townhome living, we would love to hear them.
<< Back