5 Expert Tips on Building Your Dream Home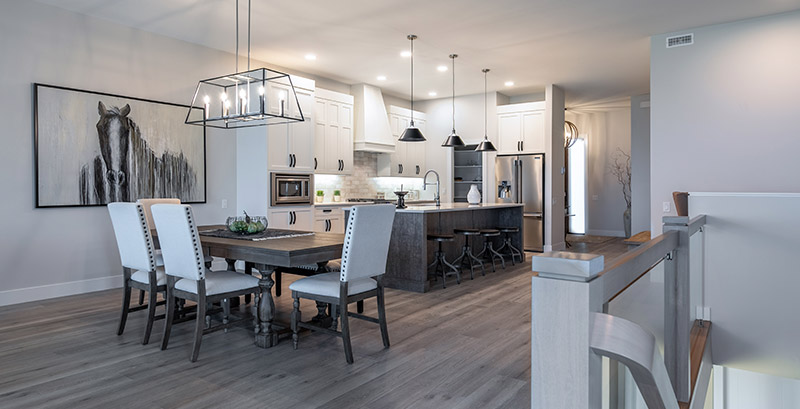 With over 30 years of experience in custom home building, we have certainly learned a thing or two along the way. By paying close attention to each stage, we have gained valuable knowledge and created a process that is as effortless as it is enjoyable for all our customers. So, if you're thinking about taking the leap, here are a few expert tips on building your dream home.
LIFESTYLE
This is a biggie. When planning a custom-built home, it's important to envision not just where you want to live but how. After all, your home should reflect and complement your lifestyle, not the other way around.
As homebuilders based in Kelowna, BC we have worked with a diverse client base on both multi-family and single-family homes. Because each family is unique and changes with time, we've found it can be of great benefit not only to envision the lifestyle you want today – but also the lifestyle you want in the future. For example, 5 years from now will your children be at University? If so, how might that affect your lifestyle? Or if you're just starting a family, how might this affect your daily routine in the future and what you will need from a home?
Where you and your family like to spend your time, your daily routines, and the activities you enjoy are all important things to consider before you begin a custom home build. Having a clear picture of your lifestyle will help you to communicate your wants and needs effectively to us, which in turn will help us to prioritize during the planning stages — keeping you on track and on budget.
YOUR HOME BUILDER, YOUR ADVOCATE
During a custom home build, it is important to remember that this is going to be your home. Your priorities and your vision should always remain at the centre of the process, and your builder should do everything in their power to make you feel empowered and heard. At Dilworth this is all managed through our customer focused Blue Print Program – a unique step by step way to build your custom home.
Here at Dilworth, we like to say that we build your home, your way, and this begins in the earliest stages of the building process. Because each project is as unique as the person behind it, we take a great deal of time to get to know you beforehand. That way, by the time we have to make decisions we have an idea of when and how you prefer to communicate, along with any areas where you may need extra support or guidance. It's about being more than your home builder, it's about becoming your advocate.
DARE TO COMPARE
When it comes to a custom home build, there are a lot of decisions to make. The clearer your vision of what you want early on, the easier it will be in the long run. For ideas and inspiration, it's helpful to look online and at magazines, but nothing is more useful than physically walking through a space. For ideas, try visiting the homes of your family and friends. Or tour show homes like ours at Tallgrass Ridge and Tower Ranch, noting what speaks to you. Is there a certain type of flooring which appeals to you? Do you like tall ceilings?
Asking your sales representative to arrange a visit one of our homes already under construction can also be beneficial because it takes the mystery out of the process. If you want to embark upon a custom home build, the more comfortable you are with the process the more confident you will feel.
ACKNOWLEDGE YOUR WANTS VS YOUR WISHES
When you embark on the process of a custom-built home, it's important to identify what is a want and what is a wish. For example, you may wish to have vaulted ceilings, but budget restrictions may make it impossible. Being honest about what is a want or priority and what is a wish (cue Carrie Bradshaw walk-in closet here) is important in managing your own expectations about what is achievable within your budget.
It's also important to think Big Picture; even for those elements that don't hold your interest as much as others. If you can paint your dream cupboards and lighting fixtures with your eyes closed but haven't given any thought to floors or tile, you know where you need to direct your attention.
COMMUNICATE CLEARLY
It's surprising how difficult it can be to communicate what we want clearly. To ensure your custom-built dream home really is what you dreamed, the more specific you can be, the better. Measurements and dimensions are very specific and can be extremely helpful in deciding if a key feature is feasible or not. Pictures and videos can help to convey an idea, as can key descriptive words that focus on colour, texture, and style. Check out our Design Inspiration page for some ideas!
At Dilworth, we've made it easy for our customers to communicate with us about the smallest detail as the entire build is laid out with transparency and available through our Co-construct platform an online management software program where you can include notes on topics such as design, lighting fixtures, appliances, milestones and budget and talk with the entire team working on your custom home build. Easily accessible from your computer, tablet or smartphone, the program makes communicating easy and efficient.
THAT'S ALL, FOLKS!
At Dilworth Homes, we've been building dream homes here in Kelowna for more than 30 years. Still, we continue to be humbled by those who share their journey and their dreams with us. So, if you've been considering a custom home build and have questions (or trepidations), we encourage you to contact us.
Building a dream home should be something you never forget.
<< Back